I own twelve bathing suits. That's eleven more than I owned up north. Despite the fact I picked up more than half of them on sale and I don't love how I look in all of them (note to self: good support is worth the money), twelve is a big number for a small article of clothing that only gets worn on special occasions. Disbarring the assumption, of course, that we southerners spend most of our time lounging in string bikinis and enjoying perpetual sunsine on tropic beaches.

This week begs to differ, and I must admit...I am loving it. Freeze warnings and record lows. Empty shelves in grocery stores where rows of Duralogs used to lonesomely sit and the smoky scent of heater dust from an unused furnace that's finally been kicked on.

We don't own mittens, but we have socks to boot, and with a little ingenuity we've set out for evening wagon walks with tiny fingers encased in foot-stretched cotton, ears hibernated into layers of furry hats pulled from packed-up boxes in the attic and snuggled blankets wrapping up little bodies more accustomed to sand and swimsuits than this out-of-character January chill.




However, it is in these moments I am reminded of the joys of home hibernation; memories of huddling around a cozy living room fire in Michigan while blustery winds barracaded the door outside. While we hardly have it that bad (despite the response of anyone asked to take the dogs out in the morning cold), it is a welcome pleasure for something a little out-of-the-ordinary. Northerners would indeed guffaw at our exaggerated attempts to stay warm (most noteworthy being the runner who jogged by my house yesterday in a triple-goose-down puffer coat and full face mask...oh, come on), but I am taking this blessed chill as an opportunity to nest and enjoy little pleasures of home.

Like crackling fires in the fireplace and chili and cornbread Saturdays. My favorite fashionable trench-coat I scored a half-off steal on before I moved down here and hardly have had the opportunity to wear. Her footy jammies that scuff across the cold tile floors in the morning and steam that dances off the surface of my coffee.

And hot cocoa afternoons...when the nap gets delayed and we instead make a memory of sitting on the cold lanai, huddled under blanket tents drinking marshmallow-peppered cocoa out of tiny tin cups.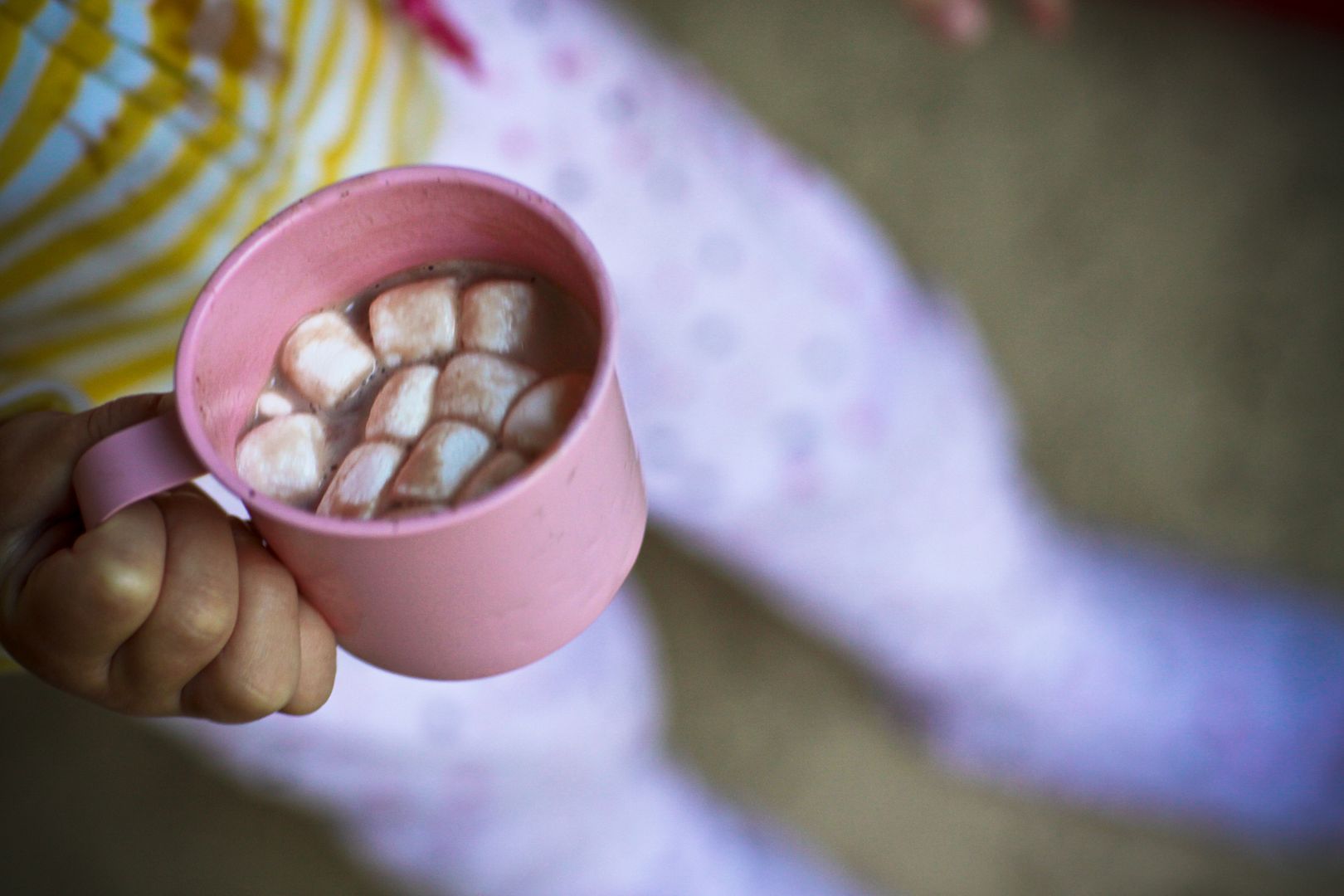 While my twelve bathing suits may be temporarily banished to the bottom drawer and we search local stores for a toddler coat thicker than a wind-breaker, we are enjoying every opportunity this weather brings to nestle and drink in the great moments of life...even if they are a little colder.

Regardless...the sun still shines.